How to end a letter
THANK YOU LETTER CLOSINGS – A DEFINITIVE GUIDE
The oldest known parchment letter was written in 1190. Evidence of letters written on stone tablets dates much further back. There is a reason handwritten letters have stuck around, even in the age of technology. Letters offer a sense of warmth and personality that can't be conveyed through a computer screen.
Some of the most common types of letters still sent today are thank you notes. You can send these for both formal or informal occasions. People often have questions about how to write thank you notes. One of the most common questions is how to write eloquent thank you letter closings with complimentary closings.
Continue reading for examples of formal and informal letter closings (plus everything in between) and when to use them. By the end you'll know how to end a thank you letter in any situation.
THE POWER OF GRATITUDE
Approaching life with a grateful heart offers numerous benefits to you and those you interact with. For one, it makes you happier! Research demonstrates that expressing authentic gratitude increases positive emotions, builds more satisfying relationships, improves health, and strengthens us against adversity.
In one study, researchers asked subjects to keep a journal. One randomized group was told to write about things they were grateful for as they occurred throughout the week. A second was given opposite instructions, told instead to focus on all the little daily annoyances that complicated their days.
After ten weeks, the researchers found that those who were instructed to focus on positive events rated higher on optimism, self-worth, and general well-being than those who focused on irritations. Interestingly, the gratitude group was also healthier than their negative compatriots.
Businesses will appreciate the implications of a study done by the Wharton School at the University of Pennsylvania. Researchers divided a group of student fundraisers into two randomized groups. The first was told to solicit funds as they always had. The second received words of encouragement from the director of annual giving in which she expressed her gratitude for everything they were doing.
Not surprisingly, the students who listened to the director's gracious words made more fundraising calls than those that didn't — 50% more sales! Studies like these demonstrate the power of gratitude to motivate workers. Managers can parlay authentic expressions of gratitude into a more effective, productive workforce.
[No sign-off]
Having no sign-off for your letter is a little unusual, but it is acceptable in some cases. Omitting the sign-off is most appropriately used in cases where you are replying to an email chain. However, in a first email, including neither a sign-off nor your name will make your letter seem to end abruptly. It should be avoided in those situations or when you are not very familiar with the receiver.
This is where the line between formal and informal begins to blur. Yours truly implies the integrity of the message that precedes your name, but it also implies that you are devoted to the recipient in some way (e.g., your friend or, as a more antiquated example, your servant).
This ending can be used in various situations, when writing letters to people both familiar and unfamiliar to you; however, yours truly carries a more casual and familiar tone, making it most appropriate for your friends and family. It's best used when you want to emphasize that you mean the contents of your letter.
Take care
Take care is also a semi-formal way to end your letter. Like the sign-off all the best, this ending wishes that no harm come to the reader; however, like ending your letter with yours truly, the word choice is less formal and implies that the writer is at least somewhat familiar with the reader.
Cheers is a lighthearted ending that expresses your best wishes for the reader. Due to its association with drinking alcohol, it's best to save this sign-off for cases where you are familiar with the reader and when the tone is optimistic and casual. Also note that because cheers is associated with British English, it may seem odd to readers who speak other styles of English and are not very familiar with the term.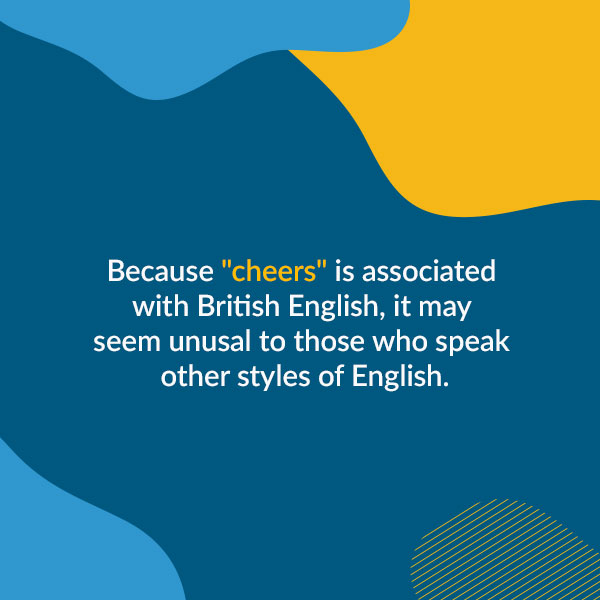 Ending Your Letter
Before ending your letter, check a few things. First, if the body of your letter is long, recap the message before the signature or any letter sign-offs. Make sure the email is clear. Or "the ask" is clear to the recipient. Then, close the letter with a professional ending. And follow-up if required.
Should my letter closing be different if I say the same thing in my email signature?
If sending a formal email instead of a letter and your email signature already has a complimentary closing to it, you don't need to repeat yourself. Use the email signature instead. And opt for a closing paragraph or closing sentence to end your formal letter. As long as your email signature contains a sincere thank you, you'll have more opportunities to write a simple yet impactful concluding paragraph to your email or letter.
What if I'm writing a cover letter? What should my closure be?
When writing a cover letter, you should use a closing paragraph and cover letter closing. The examples provided here are for business email, business letters, or general business correspondence. Use the closing examples provided for a business letter, not a cover letter.
If I'm writing a letter or email to a business, how should I close that email or letter?
If I'm writing a letter to a colleague, how should I close that email or letter?
What are some mistakes that are made when closing a letter?
What if it's a resignation letter? What are good ways to close that?
Should I say love in my letter closing?
What is a closing phrase?
Why is a closing phrase important to have in a job application email?
When submitting your job application, your closing phrase can show your professionalism and comfort with sending professional emails and conducting yourself in professional situations. This will help the reader or hiring manager feel more secure with your professionalism. Finding a phrase you prefer. And one that's proven to be acceptable to either a boss or colleague. Can be a great way to impress your prospective employer and speed up your job search process.
Should I say "thank you for your consideration"?
Saying that isn't going to leave a lasting impression on the reader. However, it is a simple phrase to use. You can use it on occasion. But if you're submitting an important document. Or want the reader to pay attention to what you have sent them (IE: applying for a job). I wouldn't use that sign-off.
What's the best tip you have for someone writing a sign-off?
Should my closing sign-off ever be longer than a sentence?
Popular Resources
Featured
35+ Phone Interview Questions & Best Sample Answers
Phone interviews have become a core part of the process when attempting to find a secured placement for an open position. Companies receive massive responses from potential candidates for any..
Featured
12+ Best Questions To Ask A Recruiter
Concerning a job search, you might receive numerous offers from your recruiters. Before you choose one, you need to assess all the conditions, for which it is vital that you know everything associated with the offered position..
Featured
Answering "What Makes You Unique" In A Job Interview
Answering this question during a job interview requires more than knowing why you are unique as an individual. Yes, the true scientific answer is made up of two main components: your..
Featured
250+ Ice Breaker Questions for Life
Featured
10 Best Answers to "What Motivates You?"
Open-ended questions like "What motivates you?" can elicit a deer-in-the-headlights reaction from job candidates if they are unprepared. It's a broad question and can leave the interviewer..
Featured
Answering "How Did You Hear About This Position" In An Interview
Featured
8 Best Thank You Emails After an Interview (Samples, Free Templates)
Featured
Writing a Resignation Letter (How To Write It, Samples)
Featured
How to End a Letter (Example Salutations, Sign Off's)
Source:
https://simplynoted.com/blogs/news/7-thank-you-letter-closings
https://www.scribendi.com/advice/how_to_end_a_letter.en.html
https://www.algrim.co/463-how-to-end-a-letter